Tree Of Savior Classes Part 1
There are currently 80 classes (view gallery) in Tree of Savior and more classes to be added later in the future. Players will start from four basic classes, Swordsman, Wizard, Archer and Cleric. The "novice" class is not implemented in the game. Upon reaching a certain level, players can choose to advance to upper classes or continue to develop existing class. There are a total of 10 class advancements from the most basic to the highest rank! To advance to higher rank classes, there are master NPCs who helps the growth of each class. Each class has at least five Skills.

There are also some hidden classes that requires certain specific requirements in order to achieve it. There are no criminal classes such as thief class.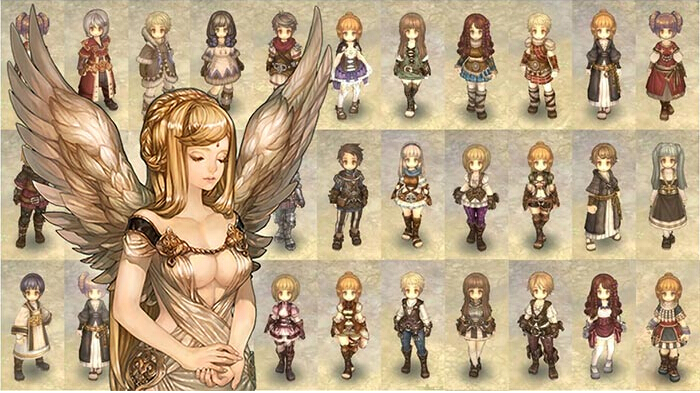 Class Circles

Class Circle is the depth of advancement of each class. Each class has a limit of three class circles. For example at rank 1, if you start with Swordsman, you are at Swordsman Rank 1 Circle 1. Similarly when you level into a Elementalist at rank 4, you are Elementalist Rank 4 Circle 1.

Using the Swordsman example, at Rank 2 you can advance into Highlander and Peltasta. However, if you wish to continue to use Swordsman, you can advance into Swordsman Rank 2 Circle 2. The highest circle each class can advance to is Circle 3, or Swordsman Rank 3 Circle 3. For the Elementalist example, the highest circle will be Elementalist Rank 6 Circle 3.

Higher circle classes unlocks new and more powerful skills. During class advancement, all previous skills are carried forward to your current class.

Below are the list of classes in Tree of Savior. A total of 54 classes have been discovered so far.
Swordsman
Swordsman is one of the four starting classes (alongside Archer, Cleric and Wizard). It is chosen upon character creation. As the name implies, a Swordsman has great endurance and uses various weapons to combat melee enemies.
Highlander
"Highlander" is a Swordsman-type class and it uses swords on both hands. They can throw enemies to collide with each other or with ground structures, so they are great at facing multiple numbers of enemies.

It has stronger attack stats than Peltasta which is in the same rank. It also possesses numerous long range attack skills, so it is useful when you are facing multiple enemies at once. The enemies that are thrown by Highlander receive secondary collision damages when they get hit on walls or barriers so when the environment around Highlander is rather complex, it will prove its worth.
Skills
Skills
Description
Circle
Type
Wagon Wheel
Swing the weapon so hard that opponents are blown away.
1
Attack
Crown
Whack the opponent head with a blunt strike, temporarily reducing target's intelligence and spirit.
1
Attack
Cartar Stroke
Gather power and smash the ground with your weapon to attack.
1
Attack
Crossguard
Take a defensive stance defending with your weapon.
1
Attack
Moulinet
Strike a flurry of 5 slashes to frontal opponents.
2
Atta
Peltasta
"Peltasta" is a defensive swordsman-type class who uses shields to protect itself from enemy attacks and can provoke the enemy.Peltasta can block enemies' attacks and attack enemies using a shield and it can even provoke monsters by tapping it's shield. Shield attacks deal a great amount of damage on the enemies that are either in Frozen or Petrified status so it is more effective to collaborate with Cryomancer or Elementalist classes. Peltasta can even throw its shield at its enemies, but if you don't pick it up soon enough, then the shield may disappear.
Skills
Skills
Description
Circle
Type
Rim Blow
Strike with the edge of your shield, inflicts further damage if your target is frozen or petrified.
1
Attack
Guardian
Reduce the attack power to increase your defense power.
1
Buff
Swash Buckling
Threatens the nearby enemies by beating the shield.
1
Attack
Umbo Blow
Uses swirl of shield to attack. Attacks after blocking the enemy's attack deals additional damage.
1
Attack
Shield Lob
Throws own shield at the enemies and damages them.
2
Attack
Barbarians
Barbarians are a reckless and aggressive warrior's class who are willing to do anything to claim victory. In the class tree, Barbarian is available in rank 3 of the Swordsman class. Barbarian specializes in two-handed swords.
Skills
Skills
Description
Circle
Type
Savagery
During the effect, your [Stab] type attacks gains bonus [Strike] attack property.
1
Buff
Aggressor
Your attack always hits but your critical rate and critical evasion decreases.
1
Buff
Frenzy
When using Frenzy, successive basic attacks to a target increases your attack damage.
1
Buff
Embowel
Stabs the enemy strongly and kicks it.
1
Attack
Warcry
Decreases the armor of targets nearby and increases your attack according to the decreased amount.
2
Buff
Stomping Kick
Jumps to a specified area and deals damage to enemies due to the hard landing.
3
Buff
Hoplite
"Hoplite" is a swordsman-type class which uses a spear. They have long-range attacks and gain bonuses when facing enemies larger than medium size.
If Hoplite uses "Overhand Thrust" stance, then it's Critical rate will temporarily increase in exchange for a decrease in it's Evasion rate. When an enemy is about to attack, it can receive a Counter Bonus when it counter-attacks the enemy using it's shield and spear simultaneously. Spears have longer attack ranges than swords and some skills with a spear will deal bonus damages on the gigantic monsters.
The class possesses extra maneuverability thanks to their Jump skill.
Skills
Skills
Description
Circle
Type
Stabbing
Attacks target with the spear repetitively.
1
Attack
Synchro Thrusting
Attacks the target with both shield and spear.
1
Attack
Pierce
Damages the target with a powerful stab. Monster size will affect how many times you hit the target.
1
Attack
Finestra
Changes stance into overhand thrust. Your critical chance increases but your evasion decreases.
1
Buff
Long Stride
Leaps instantly to a designated location and damages enemies in the area.
2
Attack
Barbarians are a reckless and aggressive warrior's class who are willing to do anything to claim victory. In the class tree, Barbarian is available in rank 3 of the Swordsman class. Barbarian specializes in two-handed swords.
Skills
Skills
Description
Circle
Type
Savagery
During the effect, your [Stab] type attacks gains bonus [Strike] attack property.
1
Buff
Aggressor
Your attack always hits but your critical rate and critical evasion decreases.
1
Buff
Frenzy
When using Frenzy, successive basic attacks to a target increases your attack damage.
1
Buff
Embowel
Stabs the enemy strongly and kicks it.
1
Attack
Warcry
Decreases the armor of targets nearby and increases your attack according to the decreased amount.
2
Buff
Stomping Kick
Jumps to a specified area and deals damage to enemies due to the hard landing.
3
Buff